Presentations, Programs and Workshops
Mark enjoys sharing the creative process with students of all ages and backgrounds, inspiring them to develop their curiosity about books, writing and rhythm. In presentations and workshops Mark discusses the origins and inspirations for his books, from simple rhyming text through to the extensive research involved in creating historical fiction, from the development of a storyline, through the stages involved in preparing for publication.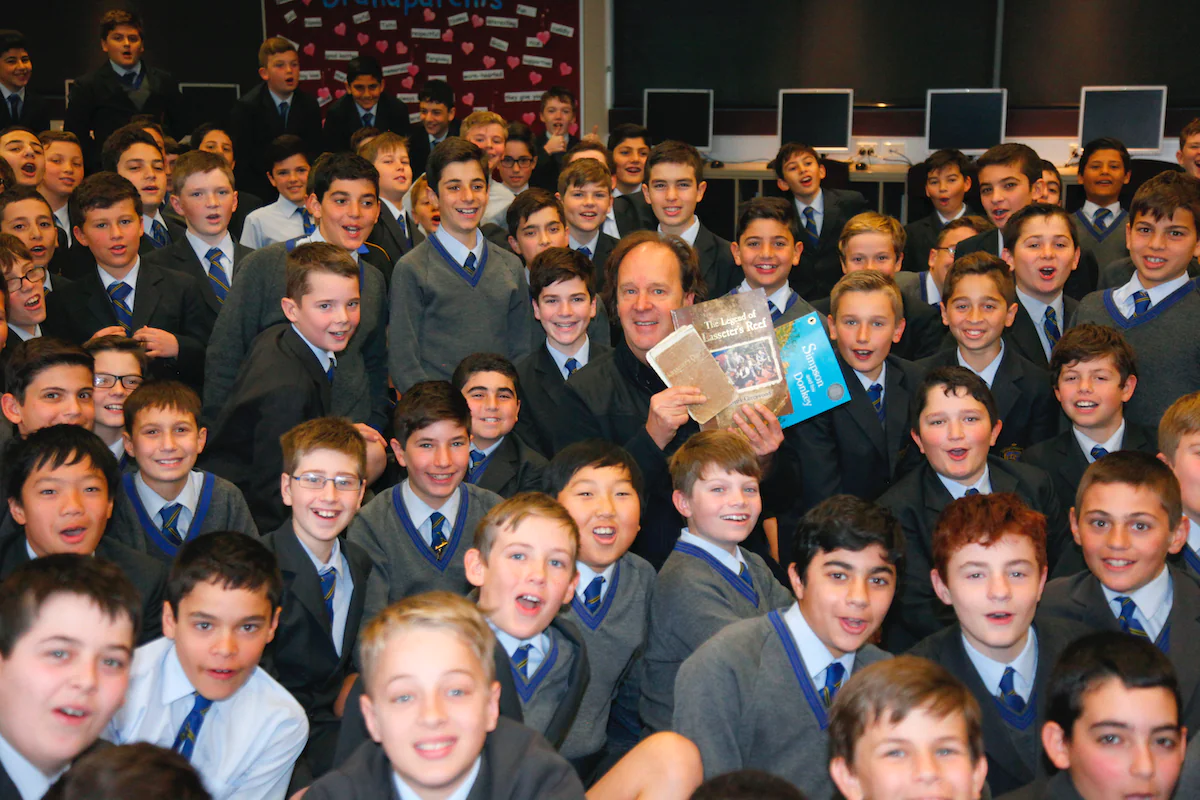 History Mysteries
Mark likes searching for lost explorers and glittering treasure, delving into mysteries and solving famous cold cases. Most of all, he loves sharing the stories that he finds. In this presentation solve a wartime mystery and find riches beyond belief…and unravel the mystery of what happened the lost explorer and crack a famous cold case…
Howzat: The Story of Boomerang and Bat
The folklore of Australian cricket began in 1868, when a determined team of Indigenous cricketers set off on a journey around the world to take on England's best. Sadly, they never received the recognition they deserved. In this presentation Mark will discuss his collaboration with acclaimed illustrator Terry Denton, the remarkable story of the real first eleven.
Jandamarra – Digging for the Truth
The story of Jandamarra is inspiring, disturbing and enchanting. It is morally complex and it is steeped in tragedy. In this presentation Mark will discuss the process of digging for the truth and his collaboration with Terry Denton and the Bunuba people in the Kimberley to create Jandamarra.
Rebels, Outlaws, Heroes
Ned Kelly, Moondyne Joe, Jandamarra and Johnny Mullagh are just some of the characters found in Mark's books. What connects the characters Mark writes about, and what distinguishes a rebel from a hero? In this presentation Mark will discuss the curious, larger than life characters from our past.
The History Hunter
If you are writing about the past you can't just make it up. Or can you? How does Mark hunt down history's juiciest moments? In this presentation Mark will show how history can be a rich vein of material for writers and storytellers
Breathing life into Myths and Legends
The Legend of Lasseter's Reef
A universal, yet uniquely Australian story of a quest to find a lost treasure of gold. With a wealth of background material and sound effects participants create their own version of the legend. This workshop comes with clues to one of the world's greatest lost treasures
"Our past is full of adventures and curious, larger-than-life characters. It is a rich vein of material for writers and storytellers."
Ned Kelly and the Green Sash
The Green Sash was one of Ned Kelly's most treasured possessions – given to him when he was twelve years old as a reward for rescuing his classmate from drowning. The sash assumed significance later in Ned's life. This workshop explores the character of a poor boy, once honored for his bravery, who grew up to become Australia's most famous bushranger
The Legend of Moondyne Joe
Discover the true story of a legendary bushranger who became the greatest escape artist of Australia's convict era. With a CD soundtrack and a wealth of research material participants explore the life of Moondyne Joe and create their own unique version of the legend.
Simpson and His Donkey
A workshop that will enrich young reader's understanding of the tradition of ANZAC. Designed to foster a deeper appreciation of identity and the ideals of courage, sacrifice and mateship that distinguish and unite us.
Fortuyn's Ghost
Sail back in time on an ill-fated Dutch East India ship. This presentation follows the journey of a ghostly ship and aims to inform and inspire further study of Australia's shipwreck history.
Sound FX – Creative Writing Workshop
Working from a cool CD soundtrack, Mark's Sound FX workshop combines learning and entertainment to stimulate the imagination and create a mood for creative writing.
The Beat of Different Drum
Write a song. Write a book. Find your rhythm and step to your own beat with an author and percussionist who has recorded and performed with some of the world's foremost artists and producers.
Workshops for Young Children:
Magic Boomerang
The wonders of Australia are brought to life by an enchanted boomerang.
Outback Adventure
Discover the unique lifestyle and beauty of the Australian outback.
Our Big Island
Navigate the Australian shoreline by boat, whale watching, pearl diving, and enjoy an amazing sailing adventure.
Mark's Requirements:
– Data Projector –
– Screen –
– Display table
– Whiteboard